>> Friday, September 10, 2010
Hi everyone :)
I seriously fail in keeping this blog alive huh? Hehehe!
I really apologize though :)
Many things have been happening :)
Exciting things!! :)
Oh btw, girls... Any of you looking for new clothes but price are just way too expensive for you to buy them?
Why don't you try my new blogshop? :)
I just started suppling
Korea, Taiwan & Japan clothing line to Malaysia
:)
Check the blog out! :)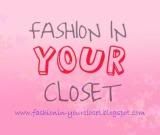 The price are absolutely reasonable & cheap!
One of the cheapest blogshop in Malaysia (seriously!!)
.
I ship to overseas too!!
Check it out and buy buy buy!! :)